Private Helicopter Hire London
No more stressful traffic jams - hire a helicopter in London.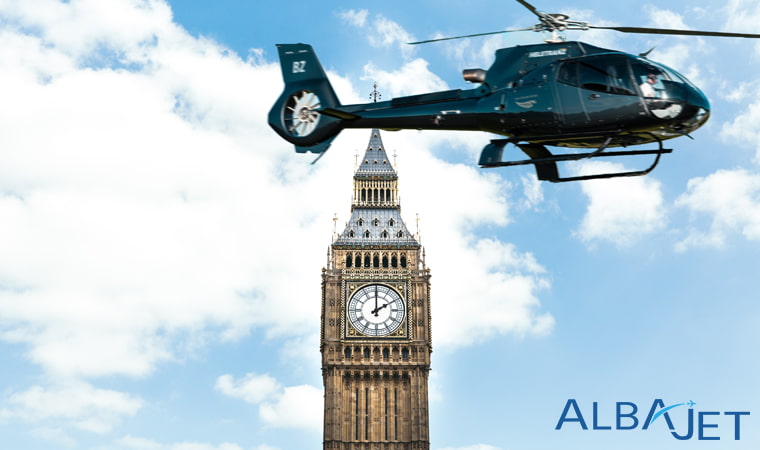 Reaching central London by road is a daunting and stressful task. By chartering a private helicopter, you can reach central London in as little as 20 minutes from all the nearby airports.
As many of London's private jet airports (mainly London Biggin Hill, Farnborough, London Luton and London Biggin Hill) are not located close to the city-centre, a private helicopter charter can ease and expedite the transfer between the airport to your home address or office.
London City Airport does not allow helicopter landings due to noise restrictions - however VIP ground transportation can be arranged between Battersea and London City airport.
Battersea Heliport
Battersea Heliport (also known as London Heliport) is London's only licensed heliport and is located opposite Chelsea Harbour on the south bank of the River Thames. Battersea's location makes it an ideal choice for onward journeys to West and Central London. Every year, over 12.000 flights take-off or land at Battersea.
Battersea provides a luxurious lounge for AlbaJet customers as well as customs and immigration facilities for international helicopter flights. No helicopters are kept at Battersea, so please allow for positioning time when making a last-minute request.
Located only a 20-minute drive from Kensington, Belgravia and Westminster, and 30 minutes from Mayfair and Covent Garden - chauffeur and private car arrangements can be made for an efficient onward journey.
Got an urgent business meeting in London? Hiring a helicopter can reduce your travel time significantly, by making point to point travel possible.
Battersea heliport is open seven days a week, from 07 a.m. to 11 p.m. (weekends and public holidays vary). Extended operating hours are possible with prior arrangement.
London Helicopter Tours
London is undoubtedly one of the most iconic cities in the world - attracting over 30 million tourists a year. From above, you can avoid the crowds and queues and experience the cities' attractions from a unique angle.
London helicopter tours are typically of a duration of 10 to 30 minutes. Our most popular London tour is the 20-minute tour - which covers all of the most iconic monuments and landmarks of London.
Helicopter tours over the city of London can be arranged from as little as £ 250 per person (actual prices depend on demand). AlbaJet can assist you in choosing the most cost-effective helicopter company in London by providing you with a range of quotes.
You can also charter an entire helicopter, ideal for groups of up to 8 passengers: prices for this start from £ 2,000 for the entire helicopter. Have any special requirements? Be sure to communicate these to us!
Helicopter Transfer to Nearby Events
Hiring a helicopter is an ideal way to reach events outside of London, for example: Royal Ascot and Glorious Goodwood, which take place during the summer. Both of these events can be reached in under 30 minutes by helicopter from Battersea Heliport.
For the ultimate luxury on board - special catering can be arranged, including champagne and fresh strawberries.
For a free of charge heli-transfer offer please contact us or call us on +44 (0)20 8089 6288.
Helicopter Flight Times from Battersea
| | | |
| --- | --- | --- |
| Route | Flight Time | Drive Time |
| Battersea to Biggin Hill Airport | 15 Minutes | 1 Hour |
| Battersea to Farnborough Airport | 20 Minutes | 1 Hour 10 Minutes |
| Battersea to London Luton Airport | 20 Minutes | 1 Hour 15 Minutes |
| Battersea to Stansted Airport | 20 Minutes | 1 Hour 25 Minutes |
| Battersea to Manchester | 1 Hour 20 Minutes | 4 Hours 20 Minutes |
| Battersea to Paris | 1 Hour 20 Minutes | 6 Hours 20 Minutes |
For international destinations we recommend considering chartering a private jet.